MMA Academy - Gym Website Template
By Daniel James
The MMA Academy Webflow Template is an efficient and robust website template perfect for martial arts schools, academies, martial arts professionals, personal trainers, and combat sports clubs. It is a great solution for creating an e-commerce website with features for showcasing products, services, and classes. Its integration with Webflow's powerful CMS makes it easy to launch your website and start promoting your business today. The template's responsive design makes it accessible on any device, and its customizable features allow you to personalize it to match your brand easily.
Price $79 USD
%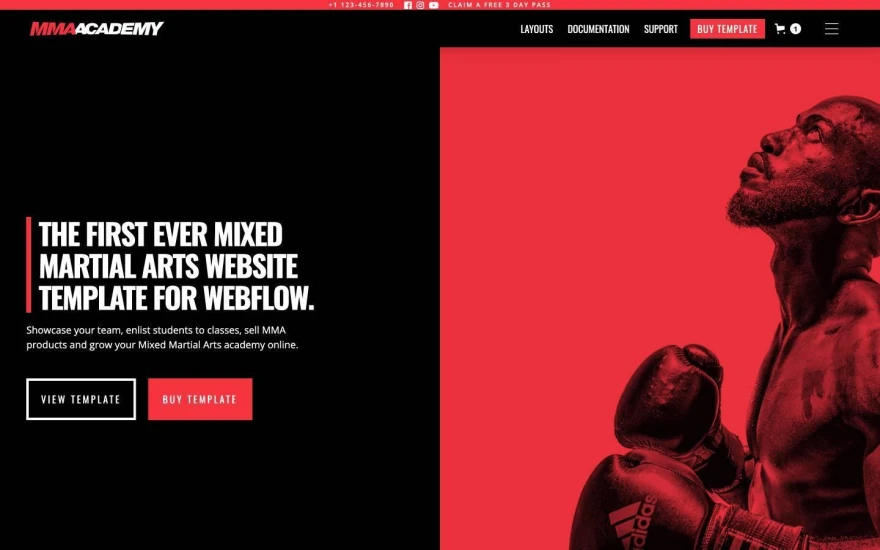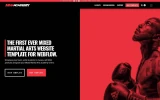 Template overview
The MMA Academy Webflow Template is the perfect choice for martial arts schools, academies, martial arts professionals, personal trainers, and combat sports clubs looking to create a professional, engaging, and effective website. With the power of Webflow's CMS and the template's built-in features, you'll easily showcase your academy's classes, instructors, and blog posts in a visually striking and highly functional way. The Instructors CMS Collection allows you to create rich, personal profiles for each of your instructors, displaying their skills, accolades, medals, belt ranking, and more. The Class CMS Collection enables you to easily create class listings, complete with information about the class schedule, instructor, and other details. By cross-referencing your instructors with the Class CMS Collection, you'll be able to create a fully integrated system that helps inform your website visitors about the classes and instructors available at your academy. The Blog Posts CMS Collection is another powerful feature that allows you to create rich media items to display on your website. This will enable you to boost your SEO, create highly searchable content to attract traffic, and establish your academy as an authority in the MMA training field. The design of the MMA Academy Webflow Template is striking and high-impact, sure to capture the attention of combat sports enthusiasts in your area. With the ability to choose from two different homepage layouts, a slider layout, or a background video layout, you'll have the flexibility and choice to make your website truly unique. All design elements are controlled via the global Style Guide, making it easy to quickly and easily update and customize global styles across your entire website. The template also includes a comprehensive video user guide, ensuring you will never get stuck or spend hours trying to customize your template. The user guide explains in easy-to-follow steps exactly how to customize your MMA Academy Webflow template, showcasing each core feature of the template in a series of videos.
100% Customizable template
You can easily change the text and images in the template. If you need advanced help with Webflow template customization, don't hesitate to contact us!