Zaitist - Dentist Website Template
By Flowzai
Zaitist is an all-in-one solution for creating a professional and sleek website for your dental practice. It is fully responsive, meaning it will look great on all devices, and it is built using Webflow's powerful design tools, making it easy to customize to match your brand. With Zaitist, you can have a fully-functional website up and running in no time, thanks to its built-in CMS and e-commerce features. It's a perfect choice for dental clinics, orthodontists, and other related businesses.
Price $79 USD
%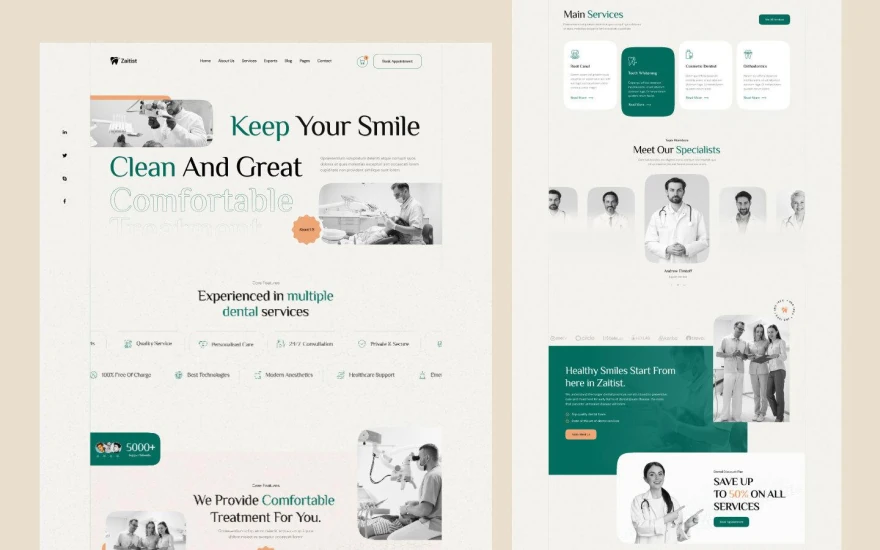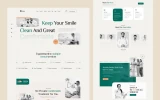 Template overview
Zaitist is a fully-responsive website template designed to help dental professionals easily create a professional and modern website for their practice. The template is built on Webflow, a powerful website design, and development platform, and is packed with all the essential features you need to create a great dental website. With Zaitist, you can easily customize any aspect of the design using Webflow's code-free design tools and connect your new website to the powerful Webflow CMS to easily manage and update your content. One of the key features of Zaitist is its responsive design, which ensures that your website will look great on any device, whether it's a desktop, tablet, or mobile device. This is essential in today's digital age, as more and more people are using their mobile devices to browse the web. With Zaitist, you can be sure your website will be fully optimized for mobile devices, providing a great user experience for all your visitors. The template also includes various page layouts and templates, so you can easily find the perfect design to suit your needs. Whether you're looking to create a simple landing page or a more complex website with multiple pages and sections, Zaitist has you covered. The template also includes a variety of different design elements and components, such as buttons, forms, and more, which you can easily customize to match your brand. In addition, Zaitist also includes a Figma file, a powerful design tool that allows you to edit and customize the template to your exact needs easily. This is an excellent feature for designers and developers who want to take full control of the design process and make more advanced changes to the template. Overall, Zaitist is a great choice for any dental professional looking to create a modern and professional website for their practice. With its responsive design, powerful features, and easy customization options, it's the perfect template to help you create a website that stands out from the crowd and enables you to connect with more patients and grow your practice.
100% Customizable template
You can easily change the text and images in the template. If you need advanced help with Webflow template customization, don't hesitate to contact us!